3 products in this category, displaying products 1 to 3.
SG ACRYLIC PUCK & CARD HOLDER
SAFTGARD
SAFTGARD ACRYLIC PUCK & CARD HOLDER
Item # AH02

Product Description
~ Clear puck and card holders are made of high impa......
SG GOLDBASE PUCK HOLDER
SAFTGARD
Gold Base Puck Holder

SKU: H01
Each Weight: 0.25lbs.
The Goldbase Puck Holder is made of high impact polystyrene and ......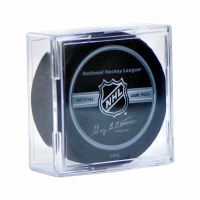 SG PUCK SQUARE 72CT CASE
SAFTGARD
SAFTGARD Square Puck Holder - 72ct Case

SKU: SQ02
Each Weight: 0.13

- Holds a regulation hockey puck
- Stackable
- Cry......