3 products in this category, displaying products 1 to 3.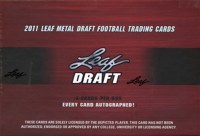 2011 LEAF DRAFT METAL FB
LEAF
2011 LEAF DRAFT METAL FB
4 cards per box



Leaf is proud to present its inaugural release of draft picks football. This......
2011 PANINI CROWN ROYAL FB
PANINI
2011 PANINI CROWN ROYALE FOOTBALL
4 Packs, 5 Cards per pack

Look for Cam Newton Rookie Cards!!

Each box will contain......